SHC SCANDINAVIA OPENING HOURS
SHC Scandinavia is usually open 24 hours a day. Because corona passport is required by the authorities, we are currently only open when the center is staffed. We must therefore ask you to be out of the center when we close.
SHC Scandinavia is located on the 4th floor of the Radisson Blu hotel, just a 5-minute walk from Islands Brygge Metro Station.
The gym delivers the framework, whether you want to practice cardio, boxing or lifting weights. Here you can take classes like boxing, HIIT or practial wing chun.
As something completely unique, SHC Scandinavia has a huge outdoor training terrace with turf and all the equipment needed. The terrace is diligently used every spring and summer.
In addition to the great training facilities, you have access to large changing and bathing facilities.
We are open 24 hours a day and look forward to seeing you.
We have 2 hours of free parking at the gym.
If you want a personal trainer, you can see our large selection here.
Eva Larsen
Eva is studio manager at SHC Scandinavia. In addition to being a manager, she works as a dietician and personal trainer.
Eva has more than 20 years of experience in management, sales, recruitment and coaching.
Her passion is to help and coach others to a healthier lifestyle. This comes through when she works as a personal trainer and center manager at SHC Scandinavia.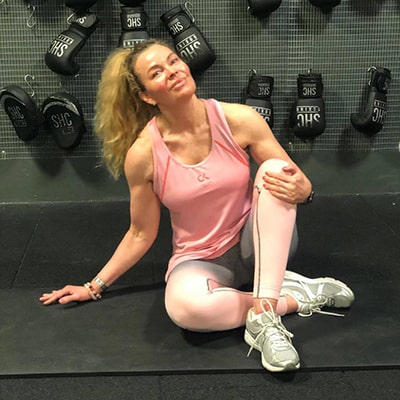 Welcome to Sporting Health Club
The place for functional training and combat sports . Visit us on Facebook, Instagram and Youtube